Digital marketing
Connecting people to your organization with thoughtfully planned digital marketing strategies and content

As a nonprofit marketing or fundraising professional, you are always looking for better ways to reach your audiences. Our nonprofit digital marketing services help drive traffic to your organization through a mix of organic, paid and inbound content. We have decades of experience working with nonprofits, so our team understands your needs and challenges. And, as a Certified HubSpot Solutions Partner, we have access to the latest trends in digital marketing that we pass along to you.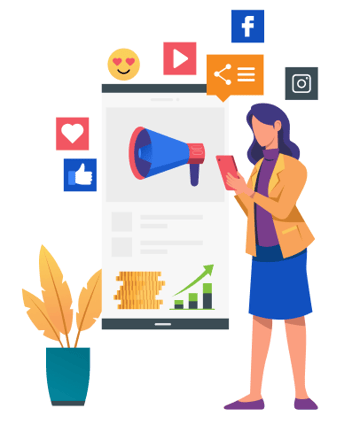 Advertising
We work with you to develop ads for a variety of digital platforms (social, PPC, search, streaming) to reach your constituents and get them to take action.
Email marketing
We create email campaigns that are personalized, nurture your constituents and align with your fundraising and marketing priorities.
Campaigns
We plan and implement digital marketing campaigns that strategically target potential supporters, patrons and clients and drive traffic to your website.
Content creation
We develop relevant and compelling content for a variety of digital platforms including advertising/PPC, blogs, email, newsletters, social media, streaming and websites.
Digital strategy
We help you align your organization's strategic goals with your marketing and fundraising goals. Then we develop an actionable digital content plan to help you achieve those goals.
HubSpot setup & onboarding
We work with you to complete the HubSpot technical setup, content migration and software integrations. We will then onboard team members and provide training plans for HubSpot users.
Inbound marketing
We help you develop inbound content and strategies that will help build trust and drive leads through e-books, thought leadership, automated workflows and social media integration.
Marketing assistance
We provide the support small teams need to manage their digital marketing campaigns and content. We provide ongoing monthly support and work on your special projects as they come up.
Social media
We help you engage audiences across social platforms, develop relevant content, monitor these engagements and report progress on organic and paid campaigns.
Digital certifications
As a certified HubSpot partner, our team takes training and professional development very seriously. We are certified through HubSpot Academy in:

Delivering client success

Marketing software
Email marketing
Inbound marketing

Guided client onboarding
Social media marketing
How can we help?
Excited to get started? Don't see what you are looking for? Tell us a little more about your project and we'll see how we can help. Or schedule time to talk with us to learn how we can help you reach your marketing goals.