MARKETING AND FUNDRAISING
HubSpot for nonprofits
Saving your organization time and money by managing your digital marketing, communication and fundraising efforts in one place

If you're a nonprofit marketer or fundraiser, you are always looking for ways to make the most of your time and stay connected with your constituents. But that can be difficult when you are juggling a variety of tasks in a variety of software platforms. Our HubSpot for nonprofit services help you make the most of your time and budget by bringing your digital communications (email, social, ads, website) together in one platform.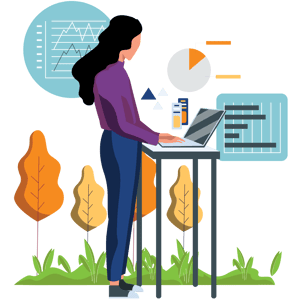 Why HubSpot for nonprofits?
Save time!
Manage your marketing in a single platform.
Automate responses to frequently asked questions.
Create forms that are directly sent to the right person.
Schedule social posts, emails and more.
Organize and run digital campaigns in one place.
Save money!
Apply for a nonprofit discount – available for qualified nonprofits.
Take advantage of unlimited users for certain hubs.
Calculate time saved by organizing your marketing in one place.
Take control!
Make changes to your website with easy-to-use, drag and drop CMS.

Create forms and calls to action and know how visitors are finding you.

Set up dashboards and reports to understand the impact of your marketing dollars.

Coordinate and get clear reporting on your digital and social campaigns (paid and organic)
HubSpot setup
We work with you to complete the HubSpot technical setup, content migration and software integrations. We will then onboard team members and provide training plans for HubSpot users.
HubSpot CMS
We build websites that are easy for you to update and manage.
Set up and training
Content
Graphics
Web development
HubSpot CRM
We get your data ready to ensure it is available for a variety of uses.
Set up and training
Contact and company imports/associations
Custom property creation
List and list view setup
Marketing Hub
We help you simplify your digital marketing and measure its impact.
---
Set up and training
Automation and workflow creation
Digital ad and campaign management
Email marketing
Landing and pillar pages
Lead capture
SEO
Social media
Sales Hub
We make it easier for you to coordinate and manage outreach.
---
Set up and training
Automation and workflow creation
Deal flow and deal management
Dashboard development and reporting
Sequence and template development
As a certified HubSpot partner, our team takes training and professional development very seriously. We are certified through HubSpot Academy in:

Delivering client success
Marketing software
Email marketing
Inbound marketing
Guided client onboarding
Social media marketing
How can we help?
Excited to get started? Want a HubSpot demo? Need more information about how HubSpot can work for your nonprofit? Tell us a little more and we'll get you what you need. Or schedule time to talk with us to learn how HubSpot can help you reach your marketing and fundraising goals.